Wilden Pump Accessories - Surge Dampeners
Protect your investment and refine your process.
The versatility of air-operated double-diaphragm (AODD) pumps makes them ideal for use in applications ranging from those found in mining to chemical processing. However, some fluid-handling applications cannot be completed successfully if pulsation exists in the fluid flow. Wilden's® Equalizer® Surge Dampener SD Series provides the solution.
Minimize pressure fluctuation
Prevent water hammer and associated damage
Self-adjusting to varying system pressures
Minimize spare parts inventory
Large solids capacity
Can be configured to meet ATEX II 2 GD X requirements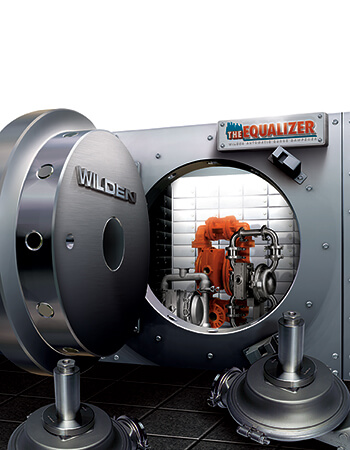 The Equalizer® Surge Dampener SD Series creates laminar (constant) process flow by reducing or eliminating pump pulsation, which is also critical in retaining pump and piping integrity. SD Equalizers use the same air as the pump to counter the flow rate and discharge-pressure changes within the system. This non-pulsating flow also helps reduce maintenance and repair costs. SD Equalizes also are compliant with ATEX II 2 GD X requirements for use in potentially explosive atmospheres.
SEE ALL SURGE DAMPENERS